Weddings
A Unique Event that Represents You and Your Vision
All of our guests have a vision for their wedding day. Whether you prefer a more traditional celebration or something totally new, our event coordinators work with you to create a unique event that reflects you and your vision.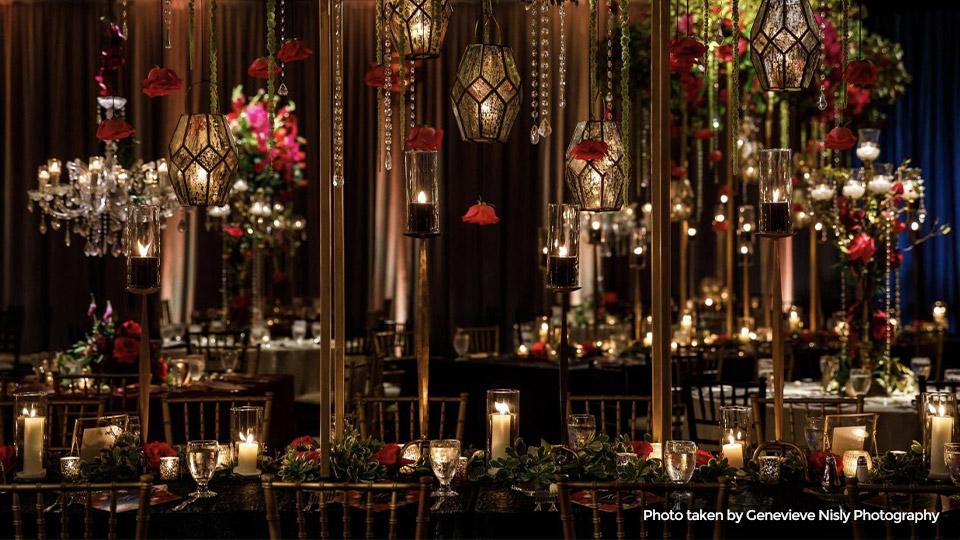 Your event coordinator guides you through a comprehensive planning process that addresses each aspect of your wedding day from start to finish. From our talented staff to a list of qualified vendors, we ensure every detail meets your specifications, including house lighting and up-lighting, ceiling treatments, centerpieces, chair covers, linens, and more.
We pride ourselves on serving your guests a meal that complements your milestone event. From specialty food stations to a traditional 'Youngstown Buffet' and all cuisines in between, our executive chef and event coordinators work with you to plan and prepare your wedding menu…even the cookie table!
Flexible Spacing
Our event venue can easily accommodate your needs, from an intimate event to a grand celebration. The 12,000-square-foot hall holds up to 800 guests, or can be split into two sections that each accommodate up to 250. Each side includes a bar and access to private patio sections. The dance floor at the center of the venue measures 48'x40' total.
Wedding Checklist
Planning a wedding isn't easy. That's why we've compiled an easy-to-follow guide for brides that outlines everything you should be doing as you planfor one of the biggest days of your life. Download the checklist and then give us a call to see if your wedding date is available!
Wedding Pitfalls to Avoid
Hold on and take a deep breath. Planning a wedding is no easy task, but remember, this is supposed to be an enjoyable time. It's going to take coordination, patience and perhaps some wine. Just avoid these wedding planning pitfalls.